Procedures for Payment
Getting Started
If you are starting from scratch you will need to click here to create a new account. After you create a new account, your web browser will automatically take you to the "Activate Account" page.
If you have already created an account, click here to go directly to the "Activate Account" page.
The web based alerts product will automatically send you to the "Activate Account" page if your subscription runs out.
Activating an Account
The "Activate Account" page offers several options. You will only see the ones that apply to you.
Select Account - This is useful when a broker is paying for several of his clients. The default value is normally correct.
Automatic Payments - This is the preferred way to pay for your account. Start using the software immediately this way. Once you sign up, you don't have to do anything until you're ready to cancel.
Automatic Payments
We use PayPal to process your order. PayPal is a secure method to pay for goods and services online using your credit card. PayPal is used by many online businesses and millions of online shoppers daily.
We chose PayPal to ensure our customers the highest level of security for their online transactions. PayPal guarantees the security of all transactions. Trade Ideas LLC does not have access to your credit card number.
Initial Signup
When you select the automatic payments option, we will show you a summary of your choices. Hit the Continue button if these options are correct.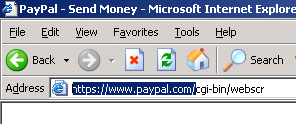 At this time you should be at the PayPal secure server. To verify this, look for the address at the top of your browser window. It should start with "https://www.paypal.com", as shown above. The status bar at the bottom of your browser should have a picture of a lock, as shown below. Your browser might not look identical to these pictures.

The top of the web page will contain details about the transaction, including the price of the subscription and the schedule for future payments. The bottom of the page will ask questions about how you intend to pay for the subscription. If this is the first time you have used PayPal, the page will ask you for your credit card number, and will ask for other personal information. If you have used PayPal before, the page will prompt you for your PayPal password.
Answer the questions on the screen. You may see two or more pages from PayPal, depending on the options you have chosen. After you have finished entering all payment information, you will be returned to the Trade-Ideas website. You will recognize the website by the Trade-Ideas logo at the top, as shown below.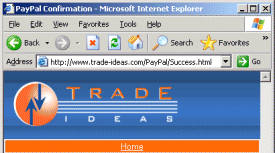 Account Maintenance
By default PayPal will automatically use your credit card to pay for your subscription every month. You do not have to do anything.
Go to https://www.paypal.com to view or modify payment information. You can view information about all past payments. You can view the exact date of the next required payment. You can change information related to your account, such as selecting a different credit card, or turning email notifications on and off. For more information, see the help on the PayPal site.
Canceling a Subscription
Always contact PayPal to cancel a subscription, or to make other arrangements for payment. They will notify us. By contacting PayPal, you ensure that your changes happen immediately.
Just click here and follow the directions. This will take you directly to your subscription. This will this show you information about your payment schedule, and allow you to change your method of payment or cancel completely.