2nd Annual Trade-Ideas Learning Curve Seminar at the San Diego Traders Expo (2007)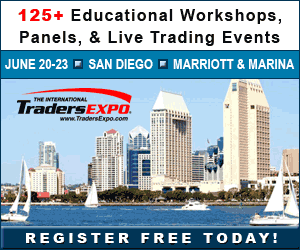 The seminar and trade show were both huge successes. Please watch our blog for announcements about the next one.
Trade-Ideas, LLC, would like to extend an invitation for you and a guest to join us at the 2nd Annual Learning Curve Seminar taking place this year at The Inaugural Traders Expo San Diego, June 20-23, 2007. The event will be at The San Diego Marriott & Marina. Your commitment to your own trading success, matched with the opportunities you'll find at the Expo will prove to be the best investment you make all year. You and your guest will receive FREE admission when you mention Trade-Ideas, LLC, and priority code #008500.
At The Traders Expo San Diego you will learn new ways to look at charts and indicators that will allow you to see opportunities you've previously missed. Meet more than 50 of the industry's top traders and gain specific trading strategies you can use immediately to increase your percentage of profitable trades. Acquire simple risk management techniques that will ensure that you can capitalize on your hard-earned profits and reduce losses to a minimum. And receive updates on the latest securities you can trade from Forex to futures. But we especially hope that you will to join us for Managing Partners Dan Mirkin and David Aferiat's special presentations and panel discussions:
| | | | |
| --- | --- | --- | --- |
| Event | Date | Cost | Next Step |
| San Diego Traders Expo | June 20 – 23 | Free | Register here |
| Trade-Ideas Workshop: "Odds-Based Trading: Removing Opinions from Your Trades" | Thursday, June 21, 3-4:00PM | Free | Let us know you're coming! |
| Trade-Ideas Panel Discussion: "When Trading Styles Collide Technicians and Fundamentalists Go Head-to-Head" | Friday, June 22, 4:45-6:15pm | Free | Let us know you're coming! |
| Idea Traders Appreciation Suite and Seminar,  "Which Strategies Are Working Now: Using Trade-Ideas Tools",  Exclusively for Odds Maker and Annual/Advantage Player subscribers to Trade-Ideas | Friday, June 22, 2-5:00pm; Snacks & refreshments provided | Free for Annual or Advantage Player subscribers and Odds Maker customers | Reserve a seat today or stop by our booth (#314) |
All events take place at the Traders Expo in the San Diego Marriott Hotel & Marina. Specific locations will be announced in the event schedule online, in the Expo directory, and at our booth (#314).
We look forward to seeing you there!
The 2007 Traders Expo San Diego also features a state-of-the-art exhibit hall with over 100 hands-on, interactive exhibits from the top trading product-and-service providers in the industry. Here you can test-drive and compare products to see which ones best suit your personal trading style, browse through the bookstore, check out the latest industry publications, compare notes with your fellow attendees, enjoy informative and lively stage panels and presentations, and even grab a bite to eat between classes.
Join us at the Expo
We invite you to visit us at booth #314 in the exhibit hall for a unique chance to meet face-to-face with our Managing Partners, ask questions, and/or change subscription plans, purchase The Odds Maker, or attend our exclusive seminar. At no other financial show will you have the opportunity to meet many of Wall Street's elite traders—up close and personal!
For more information or to register for complimentary admission for you and a guest call 800/970-4355 and mention Trade-Ideas, LLC, and priority code #008500 or make your reservations on line:
http://www.sandiegotradersexpo.com/main.asp?scode=008500
We look forward to seeing you in San Diego!